Dialogue with Vending Machine Location Owners
We have a leading market share in the vending machine channel of beverage industry. For the vending machine location owners, we act as a business partner, proposing solutions to problems, striving for attentive communication even after installation, and building good relationships.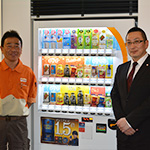 Mr.Tetsuya Amano
(Right)


Kintetsu Retailing Corporation

DyDo DRINCO and our company have done business for a long time, and today DyDo vending machines are a familiar presence to the many people who use Kintetsu Railway lines and Kintetsu commercial facilities. From a personal standpoint, I have frequently used DyDo vending machines since my school days, and they give me a feeling of familiarity and security.
DyDo vending machines have various functions that bring fun and excitement to a familiar fixture in life, and it is this that holds an attraction for me. Furthermore, activities to contribute to society through vending machines are a unique idea, characteristic of DyDo DRINCO, and their stance of valuing ties with local communities is wonderful.
We are very satisfied with the reliable, prompt response of DyDo sales representatives, and the attentive operations carried out by route staff.
Vending Machine for Drive Safety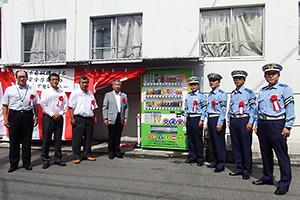 Working together with the Okayama Prefectural Police, DyDo DRINCO has implemented a vending machine campaign which makes an appeal for safe driving The exterior of the machine is designed using a traffic safety armband as a motif, and is set to deliver phrases using its speech function such as "Thank you for always driving safely," "Think about the smiles of your family members and drive safely," and "Let's completely eliminate traffic accidents." A proposal was made to install the first machine at Okayamaken Freight Transportation Co., Ltd., which provides distribution services from its base in Okayama Prefecture.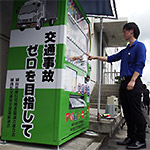 Mr.Tetsuya Kuyama
Okayamaken Freight Transportation Co., Ltd.
We received a proposal from the Okayama Prefectural Police and DyDo DRINCO to install a vending machine which calls for safe driving. We felt this would help improve awareness of traffic safety and contribute to public welfare, so we decided to go forward with the installation. After installation, employees showed a strong interest in it by, for example, posting about it on social media, and I feel this helped to naturally boost awareness of traffic safety. The DyDo sales staff put in a lot of effort, and we are grateful to install such a great machine. Going forward, I hope we can enjoy many years of doing business together.