Dialogue with Members of the DyDo Vending Partner Association
The DyDo Vending Partner Association is an organization for the operators of DyDo DRINCO vending machines. Through the accumulated results of dialogue with members, the association is fostering a deepened understanding of DyDo DRINCO's management philosophy and policies, as well as good relationships.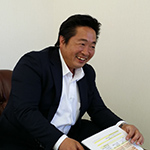 Mr.Yasuo Arai
Representative Director, Beverage Service Arai Co., Ltd.
In July 1977, when the former president founded this company as a confectionery wholesaler, we began handling coffee from DyDo DRINCO after we were approached with a pitch touting its stellar reputation.
As an association that exists to protect the community, our prosperity must come hand in hand with that of the local communities. Working together with DyDo DRINCO for this purpose to strengthen operational and management capabilities, we must shoot for the maximal satisfaction of customers.
Moving forward, we will continue to join forces with DyDo DRINCO in pursuing company growth to raise employee satisfaction, which will surely lead to bolstered operations.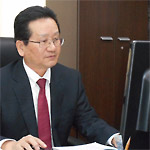 Mr.Motoji Kunitsu
President, DyDo Vending Kinki, Inc.
Our company first started doing business with DyDo DRINCO in the spring of 1992 when we began selling soft drinks in vending machines. We had been thinking at the time that our ice cream business alone would not sustain the company, as it was subject to major seasonal fluctuations. So we began vending business to diversify; now the business have become our main business.
Based on DyDo DRINCO's corporate philosophy of "striving to achieve happiness and prosperity together with people and society as a whole," our company aims to contribute to local communities through the vending machine business, bringing satisfaction to customers and happiness to our employees and their families.