Top Commitment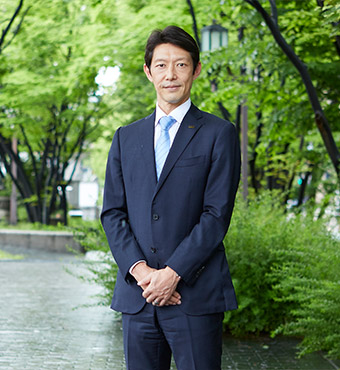 Contributing to the creation of a prosperous, energetic society by making full use of stakeholders' views in our management.
Based on the DyDo Group's corporate philosophy of "striving to achieve happiness and prosperity together with people and society as a whole," we have sought to raise corporate value while working with all our stakeholders—customers, shareholders, local communities, business partners, and employees—to bring about harmonious coexistence and mutual prosperity.
The roots of our group lie in a post-war business model of salesmen visiting homes and leaving medicine on a "use first, pay later" basis. From there, we began manufacturing pharmaceuticals and energy drinks, and then switched to our current business of selling canned coffee from vending machines. Through this process we have strived for harmonious coexistence and mutual prosperity with all our stakeholders, and taken on all sorts of challenges to find a path to survival, without fearing failure.
In recent years, we've seen the issues we face become enormously more complex, including population growth worldwide; associated pressure on resources, energy, and food; environmental problems; aging of society; and growing disparity in wages and opportunity. In order to achieve sustained growth and to increase its corporate value over the medium and long term under these conditions, we believe that the Group will need to take steps to address the latent risks posed by environmental and social changes and to help realize a rich, sustainable society by working to resolve social problems through its businesses.
Against this backdrop, we formulated the Group Mission 2030, which sets forth a vision for the Group in 2030 as it strives to implement the Group Philosophy and the Group Vision. Going forward, we will work to resolve social problems through our businesses in line with the three themes of "Innovation in the Domestic Beverage Business," "Expansion in overseas business development," and "Development of a second major source of revenue in non-drink businesses."
Based on the idea of harmonious coexistence and mutual prosperity, we will continue to make full use of the views of all our stakeholders in every stage of our business activities, and our group employees will persist in working as a team to dynamically tackle new challenges.
Tomiya Takamatsu
President
DyDo Group Holdings, Inc

The DyDo Group has "CSR Policy" to show our commitment for each stakeholder.