Top Message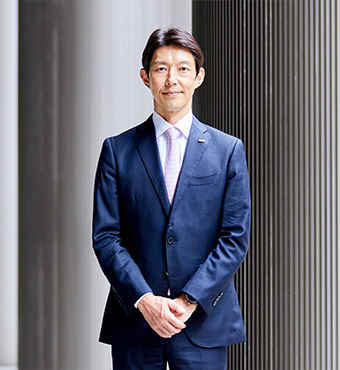 The DyDo Group aims to raise its corporate value by realizing sustained growth.
Based on the DyDo Group's corporate philosophy of "striving to achieve happiness and prosperity together with people and society as a whole," we aim to raise corporate value by realizing sustained growth. In this process, our highest priority is making full use in our management of the views of all our stakeholders.
In recent years, there have been major changes in market trends in the beverage industry. Consumers have become more focused on lower prices. Negotiating positions have strengthened with respect to sales promotion activities due to factors such as mergers and integration in the distribution chain, while there has also been further growth of highly competitive private brands. Against this background, the business environment for securing earnings has become extremely severe, with trends that include intensifying sales and price competition.
To cope with these sudden changes in the business environment, maintain our position as an industry leader in our core vending machine business, and improve the overall competitiveness, we believe it is crucial to break out of existing frameworks, and take dynamic action to meet the challenges of the next generation.
To achieve the goals of our mid-term business plan "Challenge the Next Stage," which is set to end in FY2018, we have followed four business strategies since FY2016, and taken up the challenge of creating new corporate value for the next generation.
-Work to increase cash flows on an ongoing basis by reforming the vending machine business model
-Enhance the DyDo Blend brand and strive to make it the leading brand in its market segment
-Achieve dramatic, top-line growth by accelerating the development of our overseas businesses
-Establish new profit centers through an M&A strategy
To accelerate these efforts, we feel it is crucial to strengthen the governance which is the foundation of our group management, and as of January 21, 2017, we have shifted to a holding company system, changing the company name to "DyDo Group Holdings, Inc."
The business environment surrounding our company is changing dramatically, however, we believe times such as these are a major opportunity.
We will take up the challenge of creating corporate value for the next generation by: strengthening group governance, clarifying the responsibilities and authority of each business, achieving continuous growth of cash flow in our core beverage business in Japan, and engaging in strategic business investment headed by DyDo Group Holdings.
Taking achievement of the objectives of our mid-term business plan as one milestone, we will aim to realize sustained growth toward the future, and improve our corporate value in the medium to long term.
Tomiya Takamatsu
President
DyDo Group Holdings, Inc.