Our concepts and priority goals regarding environmental considerations
Our concepts and priority goals regarding environmental considerations
Realization of a recycling-oriented society for the effective use of resources
Under the DyDo Group's corporate philosophy of "Creating happiness and prosperity, together with people and with society. To achieve this goal, the DyDo Group will continue to embrace new challenges in a dynamic way." DyDo DRINCO aims to realize a sustainable society so that we can pass on the beautiful earth to future generations.
For the realization of a sustainable society, it is absolutely necessary to use limited resources effectively. Therefore, we need to strive to achieve a recycling-oriented society. For example, to deal with plastic marine debris, which is a matter of growing concern around the world, it is required to achieve bottle-to-bottle recycling in which raw materials are extracted from used plastic bottles and reused to make new ones. For this purpose, the creation of a system that enables the stable collection of quality plastic bottles is an important task for the beverage industry.
DyDo DRINCO is mainly involved in the vending machine business, and is responsible for not only the sale of products but also the entire process, including the collection of plastic bottles and other containers. We believe that our operational ability, which is one of our strengths, also enables us to achieve a high level of quality in the collection of containers. Meanwhile, with regard to the service life extension of vending machines, which is a challenge to be addressed in terms of the effective use of steel resources, we boast among the highest level of achievement in the industry through, for example, the deployment of Frontier Vendors*1 in the market.
We aim to achieve a sustainable recycling-oriented society together with our employees and other stakeholders by making good use of resources at each critical point in our supply chain as follows: improving the quality of container collection by increasing the efficiency of our business processes, e.g. Smart Operation,*2 minimizing the waste of steel resources by advancing the service life extension of vending machines, and providing products that contribute to the effective use of resources.
*1: vending machines with extended service life (through maintenance and replacement of units) and additional functions
*2: an effective management and operation system that, for example, employs IoT in vending machines
Priority goal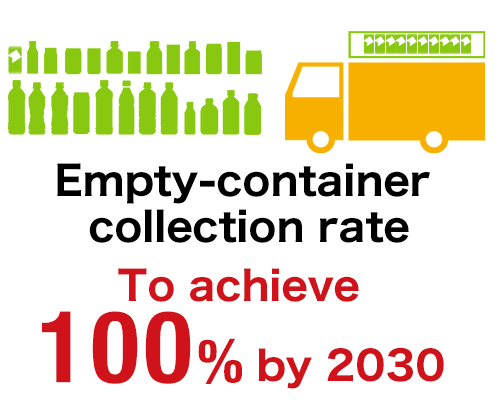 Empty-container collection rate: collection implemented in collaboration with other companies is included
Calculation basis: weight of the relevant containers collected / weight of the relevant containers shipped
Relevant containers: plastic bottles, glass bottles, aluminum cans and steel cans
Priority goal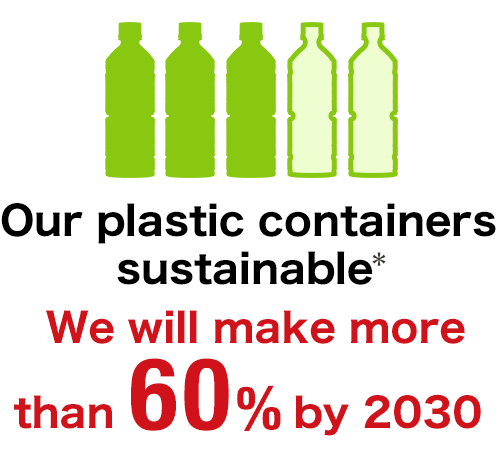 * plant-based or recycling based materials
Priority goal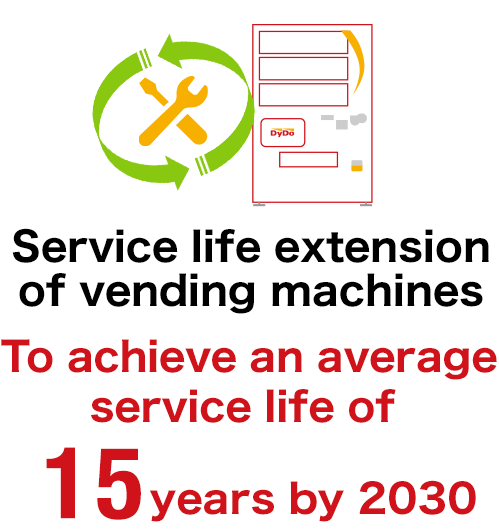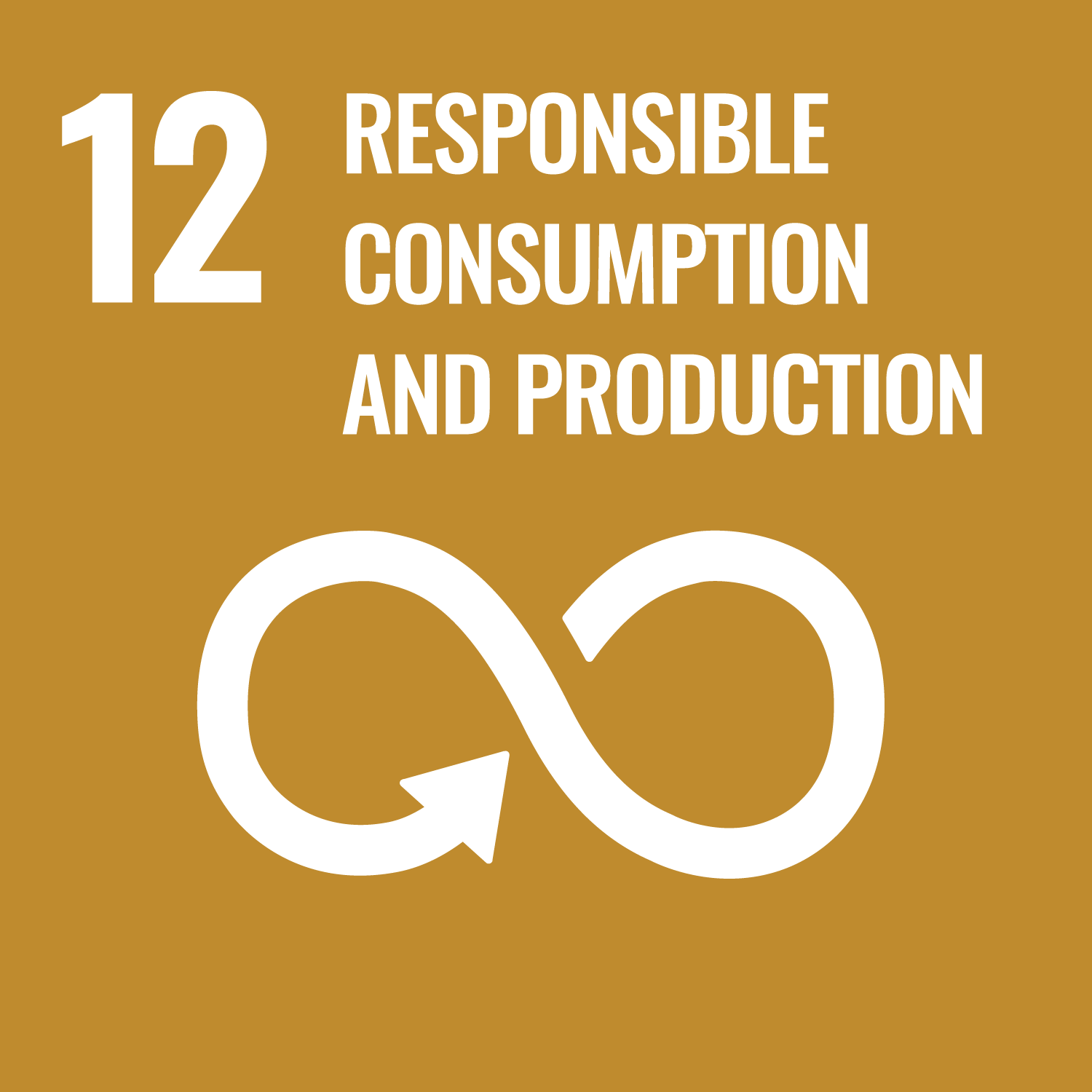 The SDG targets related to our efforts on this page:
12.5
By 2030, substantially reduce waste generation through prevention, reduction, recycling, and reuse.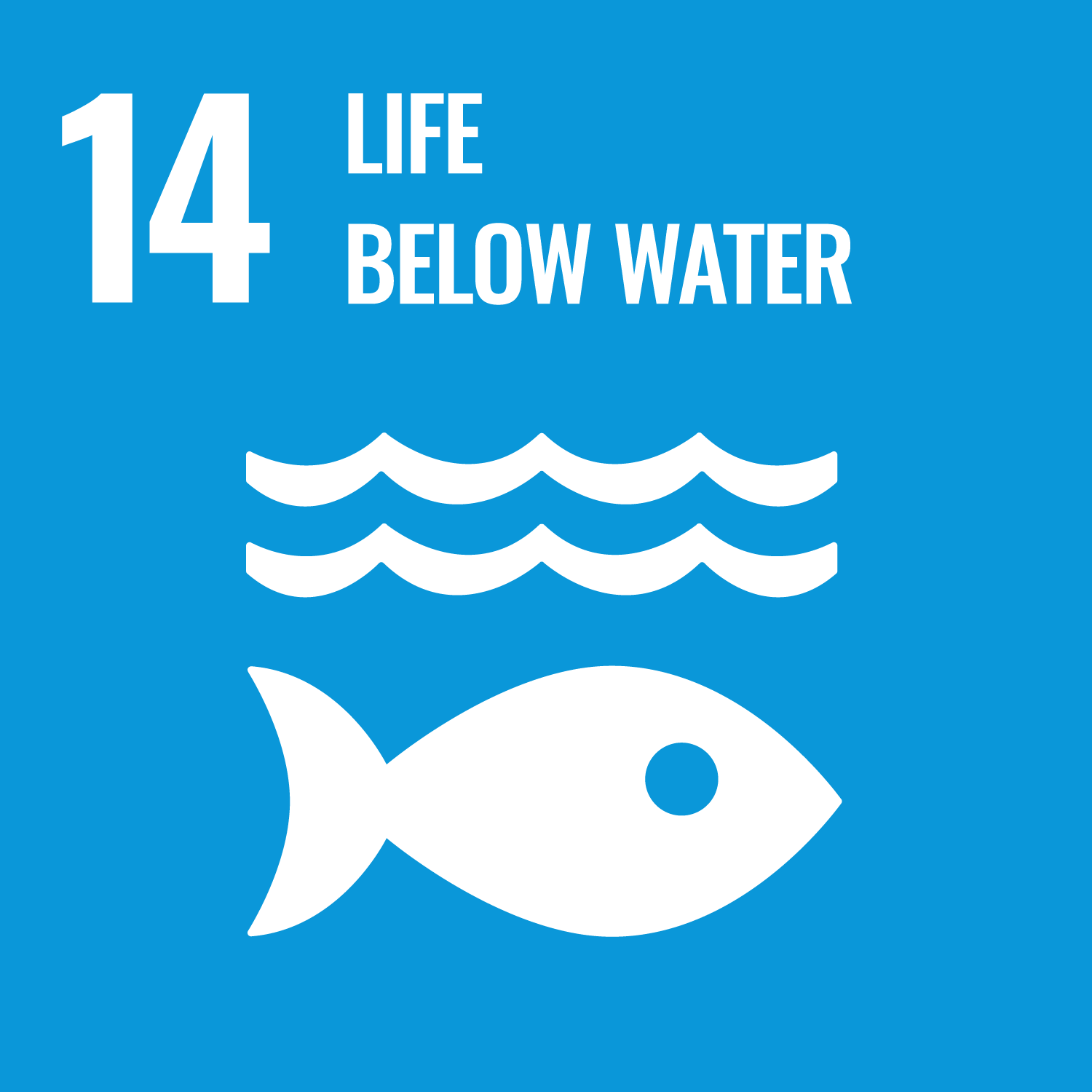 14.1
By 2025, prevent and significantly reduce marine pollution of all kinds, in particular from land-based activities, including marine debris and nutrient pollution.