Our Basic Approach to HR
To realize our group philosophy of "striving to achieve happiness and prosperity together with people and society as a whole," we believe the growth of the individual is the growth of the company and thus, consider it important that we allow the individuality and capabilities of each employee who makes up our organization to shine, and that they are able to continue to pursue tireless challenge.
DyDo DRINCO's Basic Approach to HR
To this purpose, DyDo DRINCO has formulated Our Basic Approach to HR and is engaged in building a dynamic workplace environment where employees can experience the joy of achieving their vision.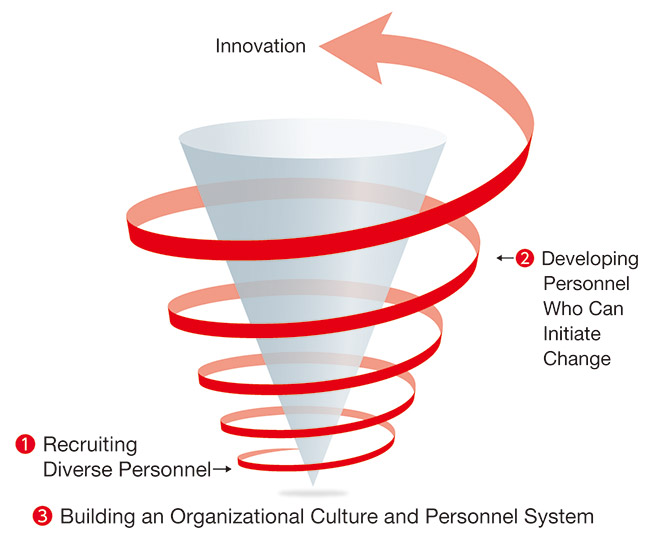 1. Recruit diverse personnel who are prepared to boldly take on challenges and are capable of taking responsibility for innovation.
2. Train personnel to increase knowledge and improve skills in order to create and implement a vision and become capable of bringing about innovation.
3. Build an organizational culture and personnel system that promote an ongoing handling of challenges.
Respect for Human Rights
DyDo DRINCO respects the diverse values of its employees regardless of gender, age, nationality, or other characteristics and seeks to provide an environment where their individual strengths can thrive to maximum extent for the sustainable growth of the company.
DyDo DRINCO is against any and all discrimination on the grounds of gender or gender identity/expression, sexual orientation, age, place of birth, nationality, race, ethnicity, creed, religion, illness, disability, or on any other basis. At the same time, we strive to protect privacy and eradicate all forms of harassment, and cultivate a workplace environment where each and every employee can feel secure.
Establishment of Consultation Line
DyDo Group has established the DyDo Compliance Hotline as part of its initiatives to promote business compliance. This system links to internal control systems and an external legal office to address actual or potential legal violations that cannot be resolved via ordinary organizational channels, and provides a venue for direct consultations from employees, business partners, and other parties.