Mid term Business Plan 2021
Mid term Business Plan 2021
The DyDo Group has put its "Mid term Business Plan 2021" ,a three-year plan launched in fiscal 2019, which outlines the Group's actions during the platform-strengthening and investment stage, into motion as it works to realize the vision set forth in our Group Mission 2030, "For DyDo Group to create enjoyable, healthy lifestyles for people around the world".
Basic Policies
Focusing on improving profits and implementing robust management
・Working to maximize cash flows by undertaking measures focusing on improving profiles in each business
・Expanding products, services, and other operations designed to pursue delicious flavor and health
Making judgments about business continuity to facilitate strategic management
・Selecting and consolidating strategic facilities in the international Beverage Business
Implementing a growth strategy to achieve the Group Mission 2030
・Implementing an investment strategy to facilitate the growth of businesses and the creation of new businesses in the health care segment
・Implementing a human resources strategy to spur the ongoing growth of the DyDo Group
Guidelines for Key Indicators in the Mid term Business Plan 2021
The three years of the Mid term Business Plan 2021 set the stage for us to raise the profitability of existing businesses and invest in the future.
Therefore, we will not set fixed quantitative targets for these three years, but instead will present guidelines for key indicators and set targets for each fiscal year in line with changes in the business environment and the progress of our priority and investment strategies.
Key Indicators
Guidelines
Sales

・Organic growth in existing businesses along with new M&As

Operating margin

・Operating margin in existing businesses (3%) minus investment strategy costs plus profit/loss from new M&As

・Transition of the International Beverage Business to profitability

Cash flows (CFs)

・Operating cash flows created by existing businesses:

¥40 billion yen or greater

・Capital investment necessary in existing businesses:

About ¥28 billion

Investment strategy

・Growth investments in existing businesses:

About ¥12 billion

・Investment in the health care segment to execute new M&As:

About ¥30 billion

・Launch of the orphan drug business:

About ¥3 billion

Return to shareholders

・Return of profits to shareholders through stable dividends
Key Strategies and Investment Strategy
Platform-strengthening and investment stage

Domestic Beverage Business

・Establishing a reliable position in the vending machine market through measures such as smart operational structures that add IoT functionality to vending machines
・Establishing robust business platforms
・Fostering the development of human resources and building our organization to support businesses over the long term

International Beverage Business

・Reassessing strategic countries to achieve overall business profitability
・Implementing cross-cutting measures between strategic countries
・Strengthening exports of Japanese products with high added value and developing new overseas markets

Pharmaceutical-related Business

・Achieving a smooth start of operations at new Kanto Plant
・Developing and manufacturing new contract products and product formats
・Developing more sophisticated quality control structures

Food Business

・Strengthening development of high-value-added products
・Improving profitability through a multifaceted reassessment of costs
・Creating business models that transcend categories

New businesses and other

・Developing new markets in the health care segment and fostering the development of the orphan drug business
・Hiring and fostering the development of a next generation of workers

Group Mission 2030

Together with our customers.

Nurturing our customers' health

Together with society.

Taking the lead in social reform

Together with the next generation.

Creating new value for future generations

Together with our people.

Connecting people to people
Specific Investment Strategies
Details about our investment strategy under the Mid term Business Plan 2021 follow below.
Investment in the growth of existing businesses (Domestic Beverage Business)
With increased competition from convenience stores, drug stores and other retailers, as well as a drop in demand due to decreased population, the domestic beverage business cannot expect a significant growth in the future. In addition, our vending machine business that drives our operation is also experiencing bottlenecks on the supply side, such as a reduction in the number of vending machines in the industry as a whole due to labor shortages. In order to maintain and expand our nationwide vending machine network even under these conditions, the Group is working to establish a smart operation structure* to dramatically improve the productivity of vending machine operation with the use of IoT and by reviewing the very nature of our operation.
In this smart operation structure, each vending machine will be equipped with a communications interface that will give us a look into the inventory status of vending machines in real time, which has previously only been possible by actually going and checking the machine. This will allow us to optimize the frequency of actual visits to refill machines and will provide us with data regarding the types and number of products to be prepared to refill the machines prior to actual visits, thus improving the productivity of employees in charge of operation.
However, effectiveness cannot simply be improved by adding communication components. In order to maximize the effects of IoT investments, we must change how we act based on data and the very nature of the way we have done business in the field while utilizing the knowledge of operation we have carefully developed over the years. We will establish new workflows through repeated verification and improvements at test sales offices, which will then be introduced to sales offices around the country.
With the establishment of DyDo's smart operation structure, we can respond to a business environment that is seeing a shortage of labor and solidify our competitive edge in the industry.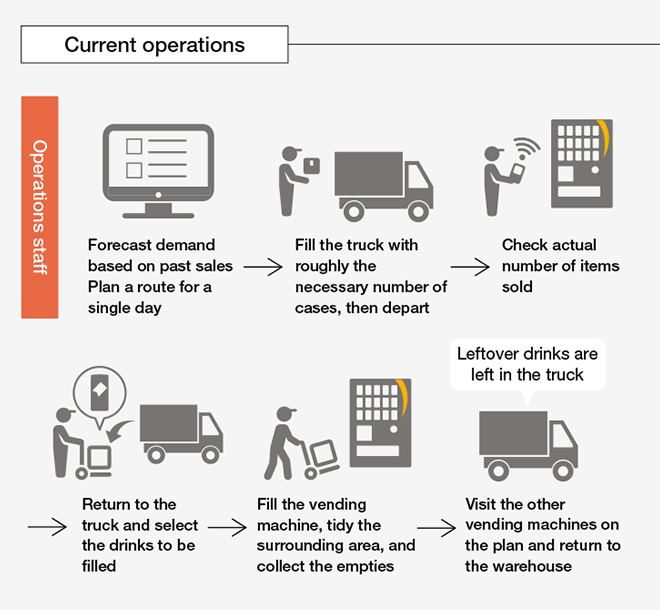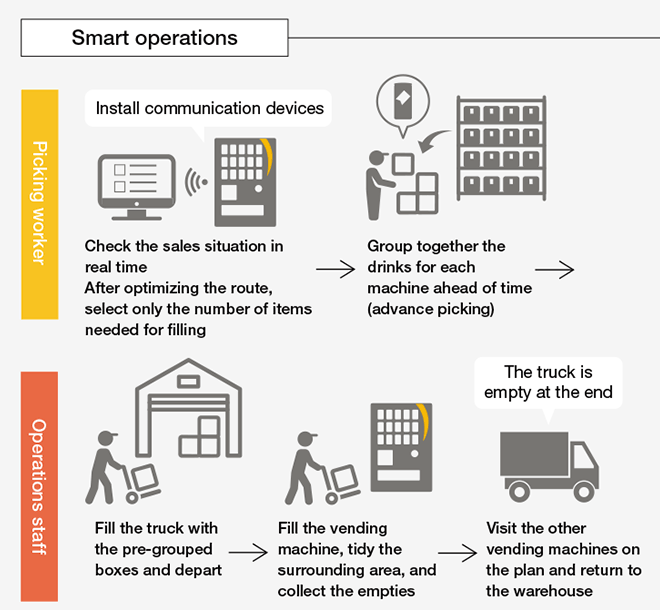 Investment in the growth of existing businesses (pharmaceutical-related business)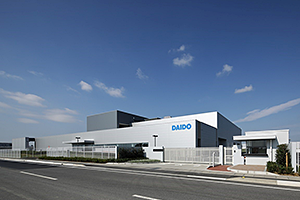 Kanto Plant in Tatebayashi City, Gunma Prefecture
A top OEM manufacturer in the industry, Daido Yakuhin has manufactured pharmaceutical and healthy drink at two plants in Katsuragi City in Nara Prefecture, located near the head office. With orders increasing steadily, Daido Yakuhin had approached the limits of its annual production capacity and invested approximately JPY 6 billion to build a new Kanto Plant in Tatebayashi City in Gunma Prefecture in 2019 in order to meet further increases in demand. This has enabled the Group to expand manufacturing capacity, spread out production risks as part of the BCP measures for both our customers and the Group, and strengthen cost competitiveness as a result of reduction in costs for delivery to the Tokyo metropolitan area where consumption is high, as well as introduction of the latest equipment which helps save on labor in the manufacturing process.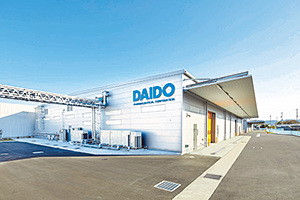 No.3 Nara Plant with a pouch production line
Another area of our investment is the construction of a new production line for pouch-packaged products, a market that has been expanding in recent years. In response to growing interest from pharmaecutical and cosmetic manufacturers in pouch-packaged products, we have newly constructed a third plant capable of manufacturing these types of products, which began operation in 2019. Although the plant primarily produces pouch-packaged products, the products handled by Daido Yakuhin are both standard pharmaceutical and quasi-drug products that require licenses to manufacture. Since there are only a limited number of such manufacturers in Japan that can handle these products, there is a high level of expectation from our customers.
The production of pouch-packaged products poses a new challenge for Daido Yakuhin, which is developing and manufacturing these products based on the know-how being shared by Tarami, which has a strong track record in the production of fruit jelly and pouch-packaged jelly.
Investment in the launch of orphan drugs
There are about 7,000 rare diseases in existence around the world, but only 5% of these are treated with approved drugs, leaving many people in critical condition. While the number of pharmaceutical companies engaged in the development of new drugs is on the rise, the countless number of diseases for which there are still no effective treatments poses a challenge for society. The approval process and setting the price of drugs are priority areas that receive support from Japanese government, which means that the barriers to entry into this market are relatively low. The Group, which was founded on medicine home delivery business, established Dydo Pharmawith its long desire to help people in need. Dydo Pharma is making steady progress in hiring staff with experience in various fields in the medical industry, such as business development and new drug development, as well as in exploring pipelines.
Click here to view DyDo Pharma,Inc.