Business Policy
Group Mission 2030
The Group formulated the Group Mission 2030 by incorporating issues addressed by the current "Challenge the Next Stage" mid-term business plan and analyzing these and other medium- and long-term changes in the business environment as either risks or business opportunities that will exert a serious impact on its business model.
The mission, which has been formulated to facilitate the implementation of the Group Philosophy and Group Vision as the Company moves toward and beyond 2030 , identifies the Group's mission and direction in each of four areas, providing a roadmap for the achievement of each.
Specifically, it divides the run-up to 2030 into three phases—a platform-strengthening   and investment stage, a growth stage, and an achievement stage. By developing highly competitive business models through the implementation of business strategies in each stage, the Group will build a robust business portfolio characterized by high growth, profitability, and efficiency.
For DyDo Group to create enjoyable, healthy lifestyles for people around the world
Together with our customers.
Nurturing our customers' health
We will deliver products and services that help improve health and quality of life for our customers around the world, in a tireless quest for delicious taste.
Together with society.
Taking the lead in social reform
We will take the lead in social reform, going beyond conventional wisdoms to adopt new perspectives for achieving a sustainable society.
Together with the next generation.
Creating new value for future generations
We will take advantage of innovative technologies, bringing surprise and delight to all of our stakeholders.
Together with our people.
Connecting people to people
We will seek out new ways to form mutually beneficial relationships with stakeholders, both old and new, within and outside the company, working flexibly with them and respecting the diversity of their values and abilities.
Basic policy
Building a robust business portfolio characterized by high growth, profitability, and efficiency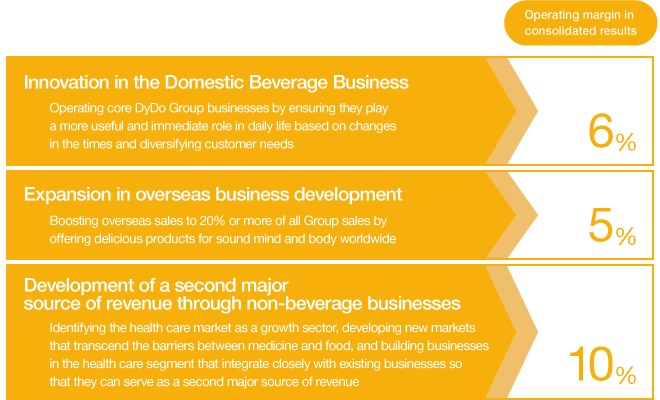 Roadmap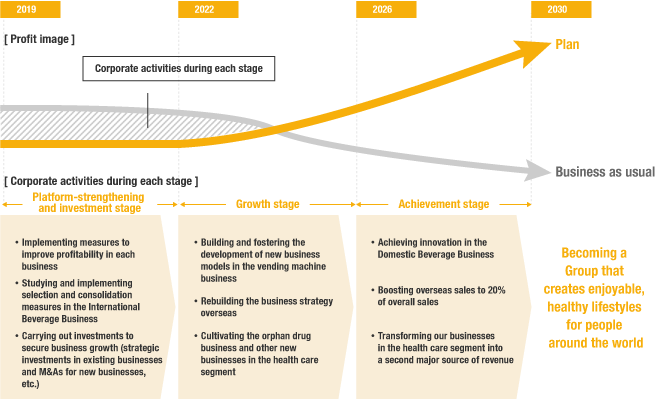 Resolving social issues through our businesses: Initiatives to address ESG issues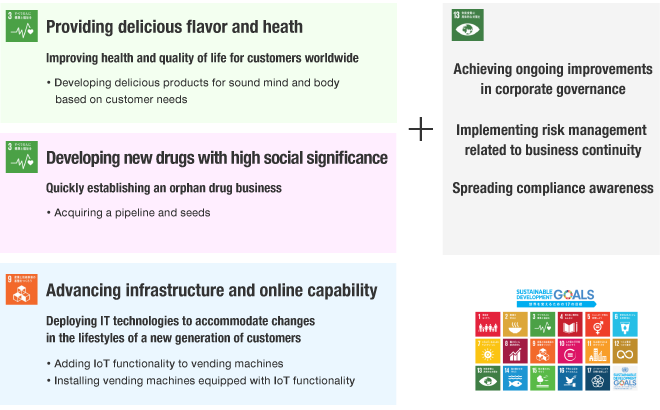 Human Resources Strategy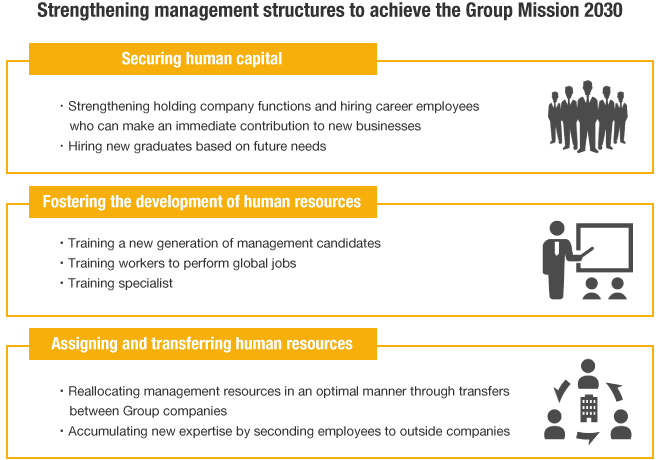 Mid teram Business Plam 2021
The Mid-term Business Plan 2021 outlines the Group's actions during the platform-strengthening  and investment stage as it works to implement the vision set forth in the Group Mission 2030. Specifically, the Group will work to maximize cash flows and advance its growth strategies in line with the basic policies described below.
Basic Policies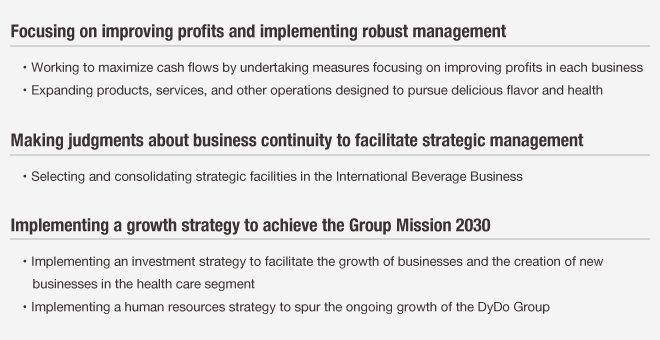 Guidelines for Key Indicators
Instead of setting forth fixed, quantitative targets for the three-year period it covers, the Mid-term Business Plan 2021 offers guidelines for principal performance indicators.
It also provides policies for setting targets for single fiscal years based on changes in the business environment and progress in implementing priority strategies and the Company's investment strategy.
Key Indicators
Guidelines
Sales

・Organic growth in existing businesses along with new M&As

Operating margin

・Operating margin in existing businesses (3%) minus investment strategy costs plus profit/loss from new M&As

・Transition of the International Beverage Business to profitability

Cash flows (CFs)

・Operating cash flows created by existing businesses:

¥40 billion yen or greater

・Capital investment necessary in existing businesses:

About ¥28 billion

Investment strategy

・Growth investments in existing businesses:

About ¥12 billion

・Investment in the health care segment to execute new M&As:

About ¥30 billion

・Launch of the orphan drug business:

About ¥3 billion

Return to shareholders

・Return of profits to shareholders through stable dividends
Key Strategies and Investment Strategy