Interview with the President
Tomiya Takamatsu became President of DyDo Group Holdings amid a drastic change in the circumstances surrounding the vending machine business, which is the core business of the DyDo Group. Subsequently, the Group embarked on new projects, including overseas business deployment. Now under the Group Mission 2030, the Group has been aiming to expand its business in the healthcare arena. On the cusp of reform of the Group is Tomiya Takamatsu, and you may wonder what he is like and what he has in mind. Let's find out.
(September 2020)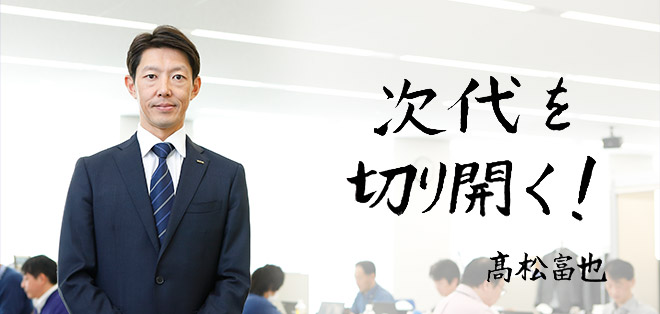 Journey and Learning as a Management Executive

Retrospection on His Journey Since Joining the Company

Future Goals of the DyDo Group

His Real Self as a Management Executive
Journey and Learning as a Management Executive
What brought you into the DyDo Group?
A turning point was the death of my grandfather, the founder.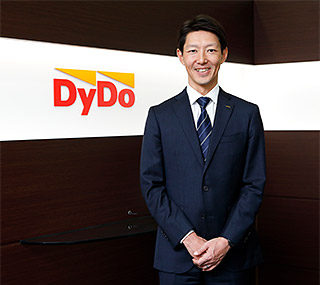 After graduating from college, I joined a leading electrical-appliance manufacturer, aspiring to make the world a more convenient place with smart houses. I was assigned to the Personnel Department and felt heavy responsibility in a role that potentially affected employees' lives. At the same time, I was motivated by having many opportunities to listen to many people from a wide variety of fields, since the company was active in mid-career recruitment. In those days, a sense of obligation to take over the family business someday was only at the back of my mind. I was completely wrapped up in my work at hand, and "someday" seemed to be still a long way off. At any rate, I had no firm intention of positioning myself at the center of corporate management—I was just going to take over the ownership of the company.
In 2004, in my fourth year working, my grandfather, the founder of the DyDo Group, passed away. In retrospect, at home, neither my grandfather nor my father Tomihiro Takamatsu (the previous President) told me about the family business or who should take it over. My grandfather's death gave me an opportunity to properly learn about episodes from the time he founded the Group. Listening to them, I felt that it was my own mission to take over the business my grandfather had loved and built up. That's when I made up my mind to join the DyDo Group.
What viewpoints do you maintain as a management executive?
Three viewpoints compared to the hour, minute and second hands of a clock
When I took up the post of President, a highly experienced management executive imparted to me three viewpoints based on the hands of a clock: from the viewpoint of the "second hand," you should keep an eye on the daily status of your business and quickly deal with tasks for the day, continuing to show results and achieving success; from the viewpoint of the "minute hand," during an easily foreseeable time span of one to three years, you should keep track of company performance for each year and achieve one goal after another; and from the viewpoint of the "hour hand," during a longer time span of a decade or two, you should predict how the world will change, and determine and show a direction in which the company will be headed. I myself maintain these perspectives with these three time spans in my work.
What book do you keep as your constant companion?
Good to Great: Why Some Companies Make the Leap... and Others Don't
This is the second book in the series. While the first one, Built to Last: Successful Habits of Visionary Companies, argues the importance of visionary management, this second book is premised on visionary management and shows what is required for a company to go from "good to great." I can relate to this book in many ways because some descriptions in it correspond to what we aim to be and to the situations our company has been in over the last few years. Since I was aware of the importance of visionary management, I began my work as President by touring our offices across Japan to communicate with all employees and share my thoughts behind the DyDo Group Philosophy and Vision with them. From now on, we will strive to make a further leap to become a great company as suggested by the book.
Retrospection on His Journey Since Joining the Company
Initiated reforms under the supervision of the previous president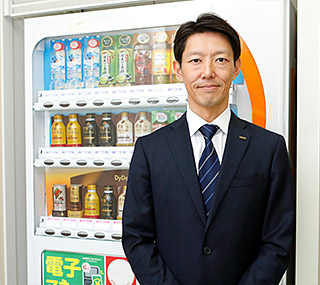 Since around 2004, when I joined the Group, the market for the vending machine business, which is our core business, has slowly taken a downward turn. I began as a route sales rep taking care of vending machines and went through all the on-site jobs in the company. Then, promoted to become a supervisor on the vending machine business, I advanced structural reforms, including the clearance of unprofitable vending machines and a revamp of the organizational structure. These reforms faced some opposition in the company, but I made persistent efforts to explain that these reforms were necessary to ensure a long continuation of our vending machine business and asked for understanding. My father, the then President, agreed with me on the need for the reforms and supported me, although I later heard second-hand that he had his own thoughts about the idea of my changing the systems he had long maintained. Without the understanding and cooperation of the employees and my father, I could not have pushed through the painful reforms.
Formulated the Group Philosophy to strive for a corporate climate reform
In 2014, at the time of becoming President, I formulated the Group Philosophy: Creating happiness and prosperity, together with people and with society. To achieve this goal, the DyDo Group will continue to embrace new challenges in a dynamic way.
The Group values the spirit of coexistence in mutual prosperity more than anything else. What has made possible our vending machine business (our current core business), as well as the medicine home delivery business launched by my grandfather, and nurtured it is support from many companies and individuals, including the location owners of our vending machines, partner companies to which we outsource beverage manufacturing, and logistics companies in various regions.
To the first sentence of the Group Philosophy, which advocates mutual prosperity, I have added the second one, which declares our determination to "embrace new challenges." Our company has succeeded in the vending machine business—to put it harshly, we owe our past success to the favorable market of the business. There was a shared belief that the company would get along just fine if only it continued to work on the vending machine business with sincerity as it had done before. In a time of drastic changes, however, you cannot survive unless you keep up with such changes. So, I express our commitment to "embrace new challenges" in the Group Philosophy to both change our conservative corporate culture and publicly show the necessity of our taking a positive stance toward new challenges and carrying out corporate reforms.
Exercised leadership in the reforms
As a leader, I myself have tackled new challenges. In addition to the above-mentioned structural reforms of our vending machine business, our efforts in other business channels have produced good results. We have strengthened our distribution channel and launched online sales of dietary supplements and other products, an initiative which has moved into the black. Outside Japan, we have expanded our business in Turkey. We believe that we have moved to this new phase of growth through the expansion of our business portfolio from the previous phase of growth through the expansion of our conventional business.
To be honest, some of the seeds of business we worked to grow have failed to bear fruit. However, these attempts have greatly helped us polish our policies about new projects and our abilities to accomplish new projects.
Future Goals of the DyDo Group
To have the spirit of challenge as our corporate culture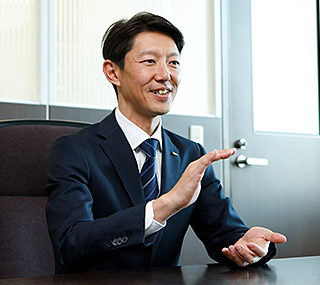 I have pushed forward various reforms since becoming President, and employees have worked with me to accomplish them. The spirit of challenge, however, has not yet fully taken root in the company. The new coronavirus swept across the world in 2020, and the business environment has been changing considerably. I know this is a worn-out cliché, but a change is a chance. Changes that are currently taking place are more drastic than ever, which means that the more quickly we respond to the changes, the bigger chance we can get. I would like each of our employees to cherish lofty aspirations and take action with strong determination. I will also continue to challenge myself, so that we can instill into our corporate culture the concept mentioned in the Group Philosophy: "continue to embrace new challenges in a dynamic way."
To grow into a corporate group that serves as a driving force for social change
Up until quite recently, during the DyDo Group's business reforms, I had wanted to improve the quality of people's lives by pursuing convenience, believing that convenience was the greatest value vending machines could offer. Now I feel that what lies beyond it is slightly different from what I had expected.
For the Group's continued and sustainable growth for 50 to 100 years to come, we need to think what we should do as global citizens, in addition to work on business reforms.
Unlike global companies and leading companies in the industry, there is limited room for us to directly contribute to people's good health through our products and services despite our expanding fields of business in and outside Japan. Still, we would like to make the most of what we can offer, and strive to contribute to raising people's consciousness of health, improving their quality of life, and extending healthy life expectancy. We feel the same way about environmental protection. The Group cannot achieve much alone, but I hope that the Group's activities and its employees' actions will lead to increased environmental awareness in society, more eco-friendly behavior, and a movement across society. I would like our company to be like that.
His Real Self as a Management Executive
Could you share some memories of your student days?
I played baseball from elementary school to college days.
I devoted my student days to baseball. In my elementary school days, I started playing and became an ace pitcher and cleanup batter, thanks to my large build. In my junior high and high school days, I served as a team captain. In college, however, the team had such a large pool of players that I could not make an outstanding contribution. I faced a setback, but I learned a lot from this experience, including how to overcome challenges and what role to play in the team. I believe that this understanding of teamwork, which I acquired through baseball, now greatly helps me consider how to manage the company, a bigger team.
How would you describe your personality?
I get excited when I try new things.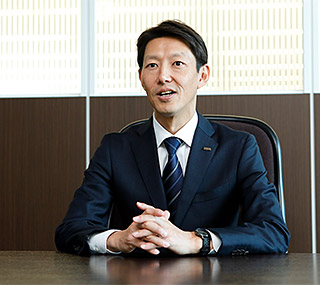 I am very emotional by nature. In my personal life, my feelings sometimes show on my face. At work, I try to behave as a cool-headed management executive who is never fazed by anything, so I am sometimes considered to have a poker face. Actually, I feel greatly excited when I am trying a new thing, although I may not reveal that.
What are you interested in lately?
Health monitoring using electronic devices and apps
I am always interested in the latest wearable devices. For many years, I have kept my lifelog and vital sign data on apps to monitor my daily physical condition. As I always tell my employees, you cannot do a great job unless you are in good health. So I constantly take care to keep appropriate habits in four aspects of lifestyle: exercise, diet, drinking and sleep. For example, I jog two or three times a week, a total of about 100 km per month, to maintain and improve my health. Running has become my favorite pastime, and I run a full marathon every year. Last year, I ran one in under four hours.
Recently, the spread of COVID-19 has forced various events to be cancelled, including marathons. This year, most of the Dydo Group "Matsuri" of Japan we support were canceled as well. I believe that it is important to put our heads together for wisdom and ingenuity and figure out new ways of holding these events in the post COVID-19 era, hoping that we will be able to put them into practice sometime soon. It seems that the world has to stay patient for a little longer, but, in the belief that this will become possible again soon, I would like to come up with more things the DyDo Group can do to cheer up the world.