Interview with the President
Tomiya Takamatsu became President and Representative Director in April 2014—a time when there were major changes in the management environment due to the increase in Japanese consumption tax and other factors. President Takamatsu will lead the DyDo Group in a business environment that is changing at a dizzying pace. Here we interview him to see what sort of person he is, and what sort of ideas he has in mind.
(as of April 2016)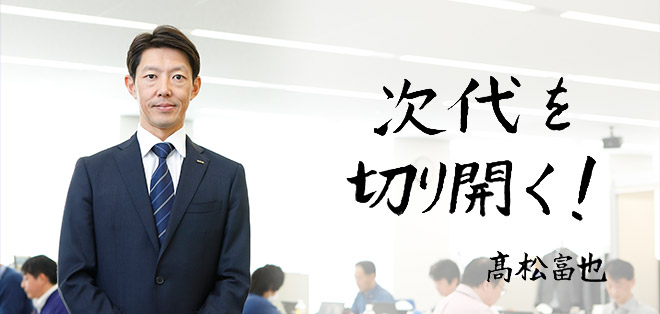 Future of the DyDo Group
Progress and Lessons as a Manager
The True Face of a Manager
Future of the DyDo Group
Q. As president, what is your future vision of the DyDo Group?
A perpetually developing corporate group
It has been more than 40 years since our company was founded, but there are companies which continue to prosper for 100 or 200 years and beyond through changing times and environments. I think that is wonderful, and what the DyDo Group should shoot for. The most important point for perpetual development is to clarify our raison d'être as a company, and share that with stakeholders in the form of our corporate philosophy—the crucial standard of value for management. On the other hand, it is important to continue providing society with new value suited to changes in the times and the environment. To do that, we will actively take up challenges such as business model innovation, establishment of new businesses, and M&A, and in that process too, return to the corporate philosophy that is the standard of value we should abide by. In this way, we should be able to realize steady development as a company.
Q. What principles do you seek to uphold as DyDo's third president?
Having the resolve and courage to take up challenges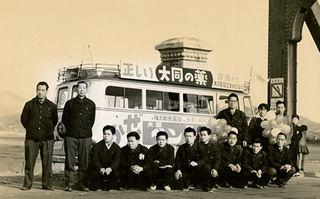 The roots of our group lie in a post-war business model of salesmen visiting homes and leaving medicine on a "use first, pay later" basis. From there, we began manufacturing pharmaceuticals and energy drinks, and then shifted toward our current business of selling canned coffee from vending machines. Through this process we have tackled various challenges in our quest to survive, such as selling adhesive plasters, candy, and malt beverages procured from overseas. Thus we have built up today's assets of the group, through a mindset of facing challenges without fear of failure. In the future too, our group will have to create new value and new assets for the next generation, while the times and the environment continue to change. We will strive for perpetual development by working with the resolve and courage to meet challenges with the same spirit that we have valued since our founding.
Q. What efforts are you passionate about?
Establishing next-generation standards in the vending machine business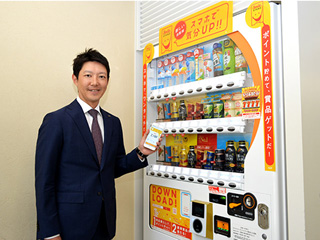 Starting with Smile STAND, a new service linking customers and vending machines whose introduction began in April 2016, we will establish networked vending machines as a platform enabling various companies to provide services. In order for new goods and services to be disseminated to society and become established, the current jumble of things will have to be narrowed down. To establish our IoT-enabled vending machines as the next-generation information platform, the key will be working as an open platform, that is not just chosen by consumers, but which also welcomes a variety of companies to avail of their features. We will create a foundation upon which many companies can deploy a wide range of services, and thereby satisfy the needs of many people.
Progress and Lessons as a Manager
Q. What was your impetus for joining the DyDo Group?
The turning point was the passing of my grandfather, the founder of the company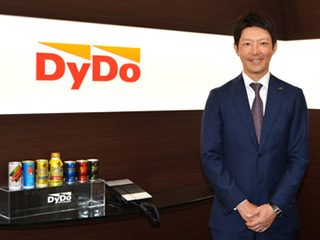 After graduating from university, I worked at a major electronics manufacturer, hoping to make the world more convenient through smart houses. In 2004, three years after I started work, my grandfather, the founder of our company, passed away, and that became an opportunity for me to once again hear the stories about the time the DyDo Group was founded. Before then, I thought that even were I to join the group, that was still a long way off; I was even considering working until retirement at that same company. Afterwards, however, I felt the importance of inheriting the founder's will to develop the company—continually taking up challenges, while treasuring ties with people and society. That led to my decision to join the group.
Q. What are your goals in your capacity as president?
My first task has been touring facilities; going forward I will take the initiative in creating opportunities for growth
For a while after I assumed this position, everything was a new experience, but as I actually progressed, I began to feel "I can do this," and it reached the point where I was getting new ideas on how to improve things. I feel pressure when doing something the first time, or doing something I am not used to, but when I overcome that, I can grow in a new way, and recently I have come to enjoy that. In the future, I feel it will be crucial to create situations on my own where I feel pressure, with the aim of growing further.
Q. What perspectives do you keep in mind as a manager?
Three perspectives—like the hour, minute, and second hands of a clock
When I became president, one of my great mentors in management told me about three perspectives, using the hands of a clock as a metaphor. In the "second hand" perspective, one maintains a constant grasp of the day-to-day running of the business, and produces results by immediately responding to the issues of the day. In the "minute hand" perspective, one achieves goals by managing performance for each fiscal year, over a scope covering 1 to 3 years. In the "hour hand" perspective, one decides and indicates the direction of the company based on discerning how the world will change 10 or 20 years into the future. I go about my work while maintaining awareness of these three perspectives on the time axis.
Q. What books do you keep at the side of your desk?
Good to Great: Why Some Companies Make the Leap... And Others Don't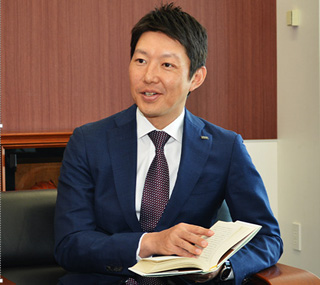 The first book from Jim C. Collins, "Built to Last," explains the importance of philosophy-based management, but "Good to Great" takes such management as given, and shows what is needed for a good company to become great. There are parts of this book which correspond to DyDo's situation over the last few years, and the ideal we are aiming for, and many points that resonate with me. After becoming president, I first toured our workplaces throughout Japan, striving for good communication by conveying the new group philosophy and vision to all our employees. I did this because I recognized the importance of philosophy-based management. Moving forward, we will make greater leaps to truly become a great company.
The True Face of a Manager
Q. What memories do you hold dear from your days as a student?
Baseball—I played from elementary school through to university
In junior and senior high school, I was a captain, and I led the team by producing results through my own play. In university, things changed. I was unable to show my strengths, and although that was frustrating, I was able to contribute to the team off the field in various background roles. I feel that there are many points where I can make use of the teamwork I mastered through baseball, i.e., how I can manage the company as a unified team.
Q. How would you describe your own character?
I am excited by new challenges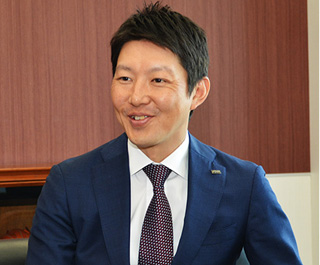 I am an emotional person, and in my private life I tend to let my emotions show, but my aim is to be a cool-headed manager, unperturbed no matter what happens. To ensure that, it seems I sometimes appear to have a poker face, but actually I am often excited inside, for example when I am working on something new.
Q. What has recently taken your interest?
Health management using devices and apps
I have linked my activity meter and scale to an app on my smartphone, and I monitor my state of health on a weekly and monthly basis. It is quite difficult to achieve my goals every day, but I try to walk 10,000 steps daily, and sleep as long as I can. When all is said and done, the body is one's capital for doing a good job. After I became president, there were more opportunities to realize that substitutes cannot fill in for the role of president, and I have become more aware of my health. Aside from health management, I move my body through activities like golf and marathon running, and I am working hard to maintain and improve my own health. Recently, I have gradually become able to run longer distances, and I managed to finish a full marathon.