Management Philosophy
DyDo Group Philosophy System

DyDo Group Philosophy
Creating happiness and prosperity, together with people and with society. To achieve this goal, the DyDo Group will continue to embrace new challenges in a dynamic way.
DyDo Group Vision
Together with our customers.
With our high-quality products, we will offer our customers excitement and enhanced wellness, with distinctive delicious flavors that only Dydo can.
Together with society.
Bringing together all Dydo's resources in the entire Group's product development and corporate activities, we will help build a rich and vibrant society.
Together with the next generation.
We will create a DyDo Standard for the next generation that transcends national borders and conventional frameworks.
Together with our people.
We will tirelessly embrace the DyDo Challenge of bringing happiness to all whose lives are touched by the DyDo Group.
Group Code of Conduct
Together with our customers.
・We will provide safe, reliable products and services through our commitment to flavor and quality.
・We will act with the customer as our priority at all times and be sincere in our responses to customer feedback.
・We will be creative and inventive, bringing surprise and delight to our customers.
Together with society.
・We will communicate actively with our colleagues and stakeholders.
・We will respond flexibly to changes in the times and environment for the sake of sustainable growth.
・We will appreciate the local community at all times and engage enthusiastically in community service.
・We will strive to lessen our burden on the environment and use finite resources effectively.
・We will disclose information in a timely and appropriate manner to ensure fairness and transparency.
・We will handle confidential information, including personal information, and company assets appropriately.
・We will behave in an ethical manner, upholding relevant laws, regulations and socially acceptable practices, and behave in an ethical manner.
・We will work to prevent corruption and avoid relationships with antisocial forces.
Together with the next generation.
・Without adhering to rigid stereotypes, we will treat others with deference at all times, and respect all individuals and their diverse values.
・We will not be satisfied with the status quo, and look for better ways of doing things, starting with what is right in front of us.
・We will approach our work with a sense of playfulness; this will lead to fresh and original ideas and generate new value.
・We will be sensitive to the signs of change in the world around us and take the lead in initiating reform.
Together with our people.
・We will strive to remain healthy in body and mind so we can do good work.
・We will be united as a team, allowing each individual to demonstrate his or her own strengths.
・We will be happy for our colleagues when they succeed, and praise them for their challenge even if they fail.
・We will take pride and responsibility in your actions, and behave toward all others in ways we can be proud of.
DyDo Group Slogan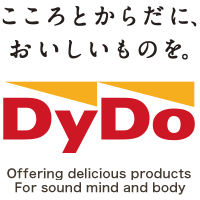 If the mind is full of energy, the body wants to be active.
If the body moves with positivity, this links to the greater happiness of the mind.
The DyDo Group is committed to bringing this joy to the minds and bodies of our customers.
The DyDo Group is unique in its ability to inspire a joyous and healthy life in our customers through a vast range of products, from drinks and foods through to pharmaceuticals.
The DyDo Group aims to be of service to people and to society through providing valuable products and carrying out corporate activities, based on its consistent vision fueled by a challenging spirit and the pursuit of ideas.