Environmental Activities by Our Employees
Forest Preservation Activities
In 2003, to protect woodlands that are such an important absorber of carbon dioxide, helping to mitigate global warming, DyDo DRINCO signed an agreement to "adopt" a forested area in Asahi Village, Higashichikuma District, Nagano Prefecture. We work to maintain this woodland area and promote good community ties as a key to passing on a rich natural environment to the next generation. Toward this end we invite local residents to craft-making classes using thinned timber from the forest and also offer Vending Machines Experience Workshop.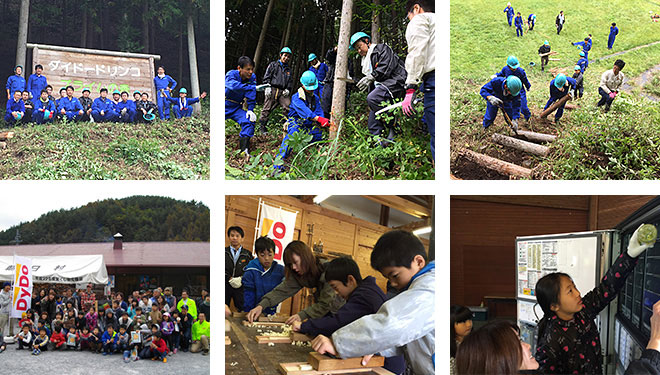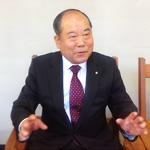 Takeo Nakamura
Mayor, Asahi Village, Higashichikuma District, Nagano Prefecture
These activities began in 2003 in Nagano Prefecture with the first adopt-a-forest project, when DyDo DRINCO and Asahi Village entered into an adoptive relationship. A "Forest Maintenance Corps" from the Chubu Daiichi Sales Department comes to prune trees and clear branches near the Asahi Prime Ski Grounds. Not only that, they also invite local residents, including parents and children, to attend workshops where they teach how to make handicrafts from the timber that they have gathered. We are very grateful for the bonds that we have formed. In 2014, participants made a new signboard that reads "DyDo DRINCO Prime Forest," which I feel has further deepened our mutual ties. We look forward to continuing working together to protect our land, fight climate change, and cultivate a healthy, valuable forest that will produce pure, delicious drinking water.
Local Clean-Up Activities
DyDo DRINCO's vending machines are located all over Japan and our beverages are purchased by customers in every region. As part of the contribution that we can make to local communities, we plan to participate as much as possible in clean-ups and similar activities.