Message from the President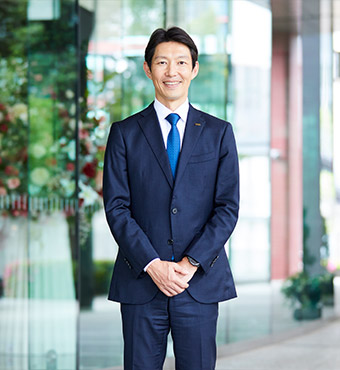 Continuing dynamic efforts to take on new challenges in order to realize sustained growth
Based on the DyDo Group's corporate philosophy of "striving to achieve happiness and prosperity together with people and society as a whole," we have sought to raise corporate value while working with all our stakeholders—customers, shareholders, local communities, business partners, and employees—to bring about harmonious coexistence and mutual prosperity.
The roots of our group lie in a postwar business model of salesmen visiting homes and leaving medicine on a "use first, pay later" basis. From there, we began manufacturing and selling pharmaceuticals and drinkable preparations, and then switched to our current business of selling canned coffee from vending machines. Through this process we have taken on all sorts of challenges to adapt to changing times and find a path to survival, without fearing failure.
The DyDo Group currently has three core companies: DyDo DRINCO, Inc. handles DyDo Blend, our flagship coffee brand, primarily through vending machines; DAIDO Pharmaceutical Corporation is engaged in OEM (contract) manufacturing of drinkable preparations; and Tarami Corporation holds the overwhelming top share of the fruit dessert jelly market. In addition, since 2016 we have also begun expansion in earnest of our International Beverage Business in countries such as Turkey and Malaysia.
The Group recognizes that the business environment in which it operates has changed significantly in recent years and that it would be essential to embrace new challenges in a bold and dramatic manner in order to achieve sustained growth and increase corporate value over the medium and long term. As a result, we transitioned to a holding company structure and adopted the trade name DyDo Group Holdings, Inc., on January 21, 2017, in an effort to strengthen the Group's management foundation. We formulated the Group Mission 2030 and the Mid-term Business Plan 2021 in FY2019, and we're undertaking a series of initiatives to achieve sustained growth and increase corporate value over the medium and long term.
Going forward, we will continue to strengthen our Group's governance, articulate the scope of each business's responsibility and authority, expand cash flows in our core Domestic Beverage Business on an ongoing basis, and embrace the challenge of creating corporate value for a new generation by undertaking strategic business investments through our holding company.
Based on the idea of striving to achieve happiness and prosperity together, our group will continue in the future to make full use of the views of all our stakeholders, and all of our group employees will persist in working as a team to dynamically tackle new challenges.
Tomiya Takamatsu
President
DyDo Group Holdings, Inc.