Food Business
Strengths and Key Features
Tarami maintains the top share in the fruit dessert jelly market, and is in charge of the Food Business of our group. After becoming a consolidated subsidiary in 2012, it has contributed to our consolidated results as the third main contributor to our group, and its high name recognition is helping to improve the brand strength of the group as a whole.
As the Pioneer of Fruit Jelly to Establish a Stable Position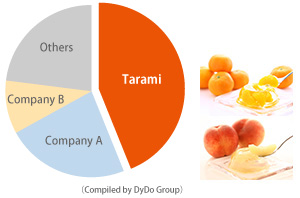 As the pioneer of fruit jelly, Tarami has had a firm hold on the industry's top share for many years. Tarami was originally a green grocer, and their departure point for development is allowing consumers to enjoy fruits from all over the world with a delicious taste even greater than the raw ingredients. Products created with this approach are esteemed as fruit rather than just jelly, and are displayed in the fruit section of large retailers. In this and other ways, Tarami has simultaneously established a unique position to go with its top share.
Positioning Ourselves for Growth through Opening Up New Markets and Higher Added Value Products
The fruit jelly market is expected to maintain stable growth in the future due to the increasing health consciousness of consumers. In the quest for further future growth, while building a firm position in the jelly market, Tarami will raise customer satisfaction through exploring higher added value products, new dessert markets and sales channels.