Domestic Beverage Business
Strengths and Key Features
DyDo DRINCO, the core company of our group, is in charge of our Domestic Beverage Business. By outsourcing production and logistics to cooperating companies, we have established a unique business model where we focus management resources onto product development and the development and operation of the vending machines which are our core sales channel, and in this way achieve stable, efficient business management.
Tireless Challenges through Finely Crafted Canned Coffee
DyDo DRINCO has, since its founding, expanded its business as a pioneer of canned coffee.
Its flagship brand, DyDo Blend, was launched in 1975, and since then it has pursued the authentic taste of finely crafted coffee without any artificial flavorings.
By blending beans from five countries with differing places of origin and roasting methods, we have brought to life a complex blend of aromas and flavors.
We believe that our thorough focus on our blends and tireless challenging spirit are the foundation points for bringing our customers authentic products.

Securing Steady Profit through Our Coffee and Vending Machines
Key features of our sales are that over 80% of net sales of our Domestic Beverage Business are through vending machines, and that, broken down by category, coffee makes up over 50% of our sales; both of these are well above industry averages.Vending machines have comparatively good price stability and steady sales, and coffee offers beverage manufacturers a high profit ratio.
Through our strategy of selling highly profitable coffee via vending machines with high price and sales stability, we are able to secure a steady stream of profits.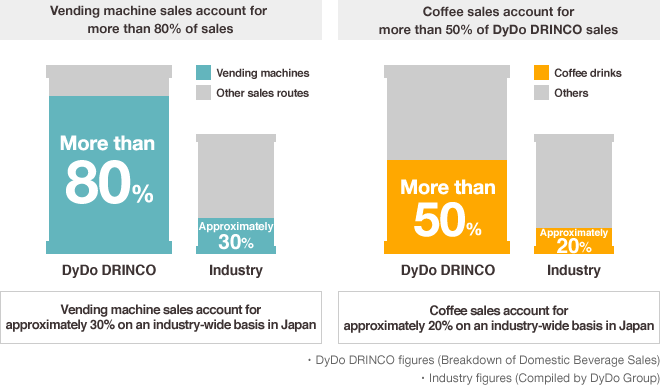 DyDo Beverage Service—the Backbone of Our Vending Machine Operations
At DyDo DRINCO, we view vending machines as our "retail outlets" and have adopted an operational structure that sells directly to consumers. Our machines throughout Japan are supported by a number of DyDo Group companies, beginning with DyDo BEVERAGE SERVICE, and special operators. Each employee takes on the mindset of "store manager" for our exciting vending machines that boast roulette and talking features, striving for the optimal lineup of products to suit the location and season, all to create an environment where customers can always purchase our products with a smile.
Effective Use of Management Resources via Fabless Management
DyDo DRINCO does not have its own production sites; instead we have a strong relationship with our partner production sites. Product logistics is also outsourced to cooperating companies all across Japan. This business strategy enables us to reduce large investment risks, such as capital investment risks, and logistics costs.
This approach also realizes efficient utilization of operating resources as well as concentrating our investments into product development and vending machine operations. We strive to develop products with high added value that other companies are unable to offer, and operate our vending machines more in line with customer needs.